As Home Care Solutions celebrates 25 years serving the greater New Orleans community, co-founder and director Betty Tedesco recently announced her retirement at the end of 2016. A Social Worker and Geriatric Care Manager, Betty founded Home Care Solutions in 1991 with her business partner, Dianne C. McGraw.
Home Care Solutions is an eldercare services company specializing in non-medical home care and Geriatric Care Management — now officially referred to as "Aging Life Care Management." As a long-time Care Manager, Betty has consulted with hundreds of New Orleans families and provided ongoing care management for both elderly and disabled clients.
A native New Orleanian, Betty received her Master's degree in Social Work in 1980 from Case Western Reserve University in Cleveland, Ohio, specializing in health care. She is a Louisiana Licensed Clinical Social Worker and a Certified Care Manager. As a National Certified Guardian for ten years, Betty has also served as court-appointed Curator for elderly and adult individuals with cognitive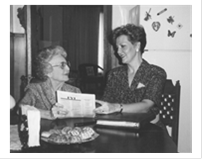 impairment at the request of the Jefferson Parish court system. Betty is past-president and currently serves on the Board of Directors of Louisiana Guardianship Services. She has taught graduate coursework in gerontology as Adjunct Professor with Tulane's School of Social Work and continues to be a frequent presenter on the topics of caring for aging parents, long-term care planning, and specialized care giving for those with Alzheimer disease or other dementias. Along with her business partner, Dianne McGraw, she was honored among the "Top Female Achievers" by New Orleans Magazine in 2012.
Under the ongoing leadership of co-founder Dianne C. McGraw, Home Care Solutions will continue to grow and serve the needs of New Orleans' elderly and disabled. "Our passion and commitment ensure that our clients receive the highest quality care, based on professional and ethical standards," said Dianne.  As an independent, locally-owned company specializing in in-home sitter/companion and Alzheimer care, our comprehensive approach may include assessment, family consultations, caregiver availability 24/7 and peace of mind.  Dianne said, "Our team has never been more committed or stronger, and we look forward to the next 25 years as we wish Betty every happiness in her next chapter!"